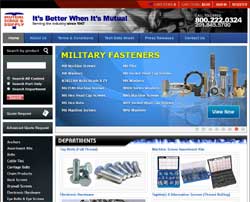 In US, there are numerous stores where you could buy hardware items but when it comes to buy some rare screws or bolts for some old piece of furniture, you might have to search at numerous places to find the right one. With the advent of online shopping, the World Wide Web has opened doors to myriad web stores, such as the Mutual Screw, which can be easily accessed from any part of the world.
This particular company is already a household name in the US market and now gradually spreading its wings beyond the US territories through the Internet. This leading company came into existence in 1947 and is specialized in hardware components, fasteners and various other tools. Initially, it had focused only on the kitchenette and furniture industry within the New York region.
The moment they started to think beyond New York, their focus had entirely changed by then. The idea of manufacturing of fasteners was a real bold step, but they took a chance and the rest is history. The company is now a full-fledged hardware supply brand, which is also well-recognized globally through its strong online presence. Check out the website here – Mutualscrew.com.
The electric supply industry and lumber yards were also evenly added. This kind of piece by piece addition always contributed in enhancing the popularity of this organization. By 1980, they had to look for a bigger location to set-up a grand new building. They finally chose a place just 12 miles from the George Washington Bridge, where they could set-up a whopping 32,000 square foot warehouse.
By 90s this company already had a long list of esteemed partners and clientele. This was the era, when this company was literally ruling over the Electrical Supply Industry. By 2000, the company was already basking in glory. In 2004, the Mutual Screw had a major achievement, as it had acquired the Universal Fasteners Service and Supply, which was specialized in custom packaging, assortment kits and online sales.
By the end of the decade, the company had entered into the world of online marketing and today, it boasts off a popular web store, dealing with thousands of metal pieces and hardware equipment.
Using the standards of top-notch service, high quality materials and brilliant design, they have earned an international reputation for excellence in this particular field. Their strong hard wearing and top quality products have grown over the years of development and experience, only to add more and more feathers to their glory.
Today, this brand is run by a savvy team having 100 years of experience. The affordable pricing and high quality perhaps may be the key to their success.