I am sure Alexa is not the most appropriate tool to do this type of analysis. However, their results are fairly accurate when you consider ratings of top 100 websites and that too if they are in the similar domain.
I tried to compare orkut, facebook, twitter and aging myspace.com ratings for last 2 years. Here are the findings: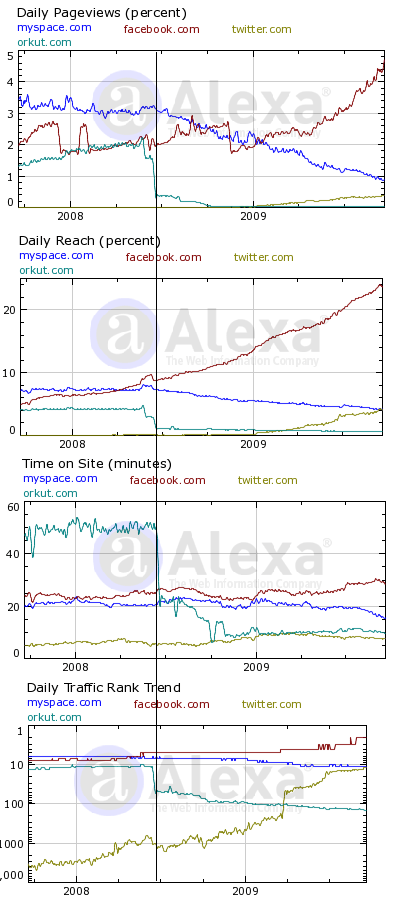 2008 was turning point for social networking websites. The process for fall of 2 giants (myspace and orkut) and the rise of two (facebook & twitter) started somewhere in the mid of 2008 which is very evident on the Alexa graph above.
Why Myspace.com is dying?
Myspace is only for Teens:
Myspace is not only restricted for teens but they are primarily geared towards teenage audience. The personal pages at myspace are way too loud, colors very bright, background images used are too big, audio and video too heavy and everything which same people (who created them) would not like once they grow. The users of myspace primarily consist of MTV lovers, teens, school kids etc.
Myspace was sleeping while Facebook was gaining ground:
In the web2.0 era, the company which innovates regularly and is most responsive to change wins. In terms of change and innovation myspace was sleeping throughout 2008. Facebook on the other hand was constantly innovating, changing its interface, introducing applications and other innovative features to appeal and reach larger audience. After they (myspace) realized, it was too late and they started replicating the popular facebook features which was again not taken nicely by its teen audience.
Criminal activity at Myspace further tarnished its image:
There was lot of news about myspace for lots of child predator cases. Myspace tried to remove registered sex offenders and took lot of further cleanup actions but its image among parents took a nosedive by then and a big dent was made.
Spam Filters:
Myspace spam filters were very weak and nothing was done to strengthen it up. The way spam messages had free way annoyed lot of its users.
Tastes of people for social media is changing:
I signed up for twitter in 2007 but never used it as I could not find how it could help me in anything. I thought myspace blogs were cool but things have changed in last 2-3 years. Now I like fast messages more, then long-style communication of myspace blogs.