How I got here:
I got the address of this website from hotteststartups.in. While I am writing this post, vakow.com is ranked 6th on hotteststartups. Impressive!
First Impression:
I had a look at the title of the page. "SMS Blogging & Sharing – Vakow!". So that means I could signup on this website, have my message posted in my personal blog and share it with other people on mobile in the form of SMS.
The reality:
Ok, just below the head towards right I found the details. This website is about:
One could start a SMS blog.
Follow friends blog and subscribe to their posts as alerts.
One could also send free sms to any phone in India.
Well the features look attractive.
Vakow is SMS related hence I tried opening it on my mobile. I have Nokia N95 with Edge form Airtel. Well, they do not have a wap website. Their home page size is 507kb when I tested. It might not be world record for size but very close to it. After 5 minutes my mobile could download only 411kb and I stopped.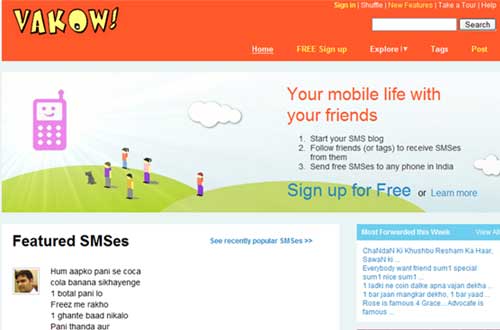 The home page:
The home page is somewhere near to twitter well, not really. First I did not like the color i.e orange, pink and some strange version of blue. Text is of yellow, white black and blue in color. If head is done in blue or some related colors, it would have been great.
Main body where messages are displayed looks fine. Although some work can go into font sizes. Right sidebar again is not pleasing to eye. It is not readable too.
"Web2.0 type designs" Well it does not mean having some big fonts and yellow backgrounds. Everything in a design should be balanced which is missing from Vakow.com.
Let us get down to work.
The work:
Signup form. Everything looks good here. I filled the details and it was quick. I have to enter 6 digit code which they will send to my mobile. I received the sms in 30 seconds. WOW, that was quick.
Everything is working great. I landed on the screen as below.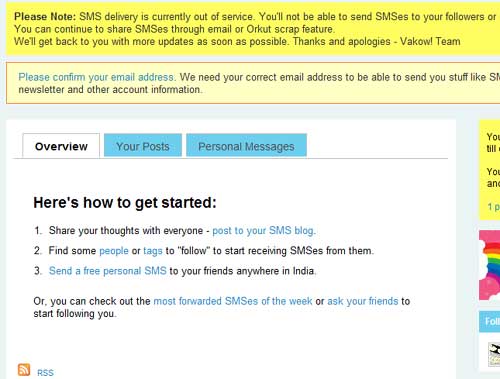 Lots and lots of yellow backgrounds. Light yellow, semi light yellow and very light yellow. The work area looks fine. They should use ajax here as each tabs loads a new window and takes lot of time.
I tried posting my first text. Everything was smooth and intuitive. One problem – I tried finding my url after message post and it was their in the extreme right bottom. It could be moved a bit up, at least for first time users.
This is my SMS blog page Here.
My verdict:
Design: 2
Page load speed: 2
Contact us link: 3
Different screen resolutions: 3
(Problem in 800/600)
Browsers: 3
Navigation: 3
Work Area: 4
Web2.0 elements: 2
This was bad:


Note: Hire a good UI developer
The Website: Vakow.com