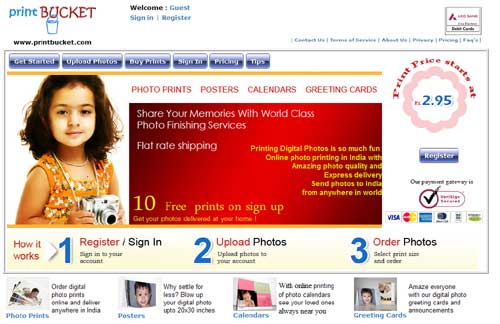 PrintBucket(www.printbucket.com): Pictures are indispensable for human beings as they help us to retain memories for special occasions. No party, marriage is completed without pictures. However, printing pictures was a tedious task as you need to hunt for a photographer in your area and they also charge high prices. With the growth of internet, many businesses have gone online and same is the case with printing. PrintBucket.com is one of the website which offers printing services online.
PrintBucket.com saves you from the hassle of looking out for printing services and provides photograph printing at very low price. You can get your 4″ * 6″ image printed in only Rs2.95. they provide you interactive user interface to deal view and select your photographs and you can also upload unlimited photographs at their gallery. This is also a best place to upload and store your images forever. You can send your digital photographs by uploading, though a CD and will get your photographs within 3-4 days. The printed photographs are of high quality and the service is very quick. They ship the photographs within 3-4 days and it saves your time as you get images directly at your home.
You can also print high quality big size images and calendars at very nominal prices. You can also get posters, photo cards, prints and greeting cards. They accept all payment sources including visa, master card etc. You will also get discount on bulk order and a special sift of 10 free prints at sign up.
Design & Usability: People behind Photobucket claim "ease of usage as the highest priority" while designing the website. I feel that the website looks a bit amateurish. Please do not make web2.0 as an excuse to give such designs to people. Post login, things looks fine but could be improved. Examples of some of the existing products on the homepage would have been great. There are lot of repetition of links on the home page which do not look good. Printbucket.com should go for a redesign.
Competition: itasveer.com, zoomin.com, Picsquare.com