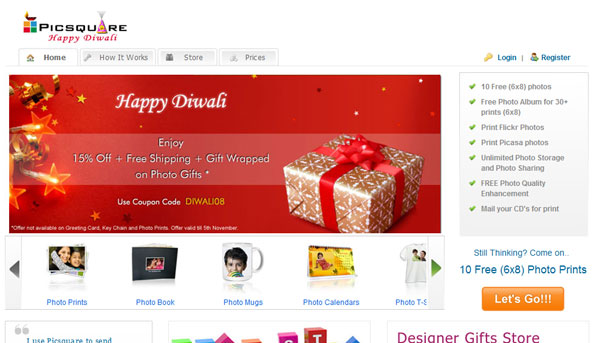 Picsquare is a website through which one could:
Share Photos between friends on net
Order prints online and get them delivered anywhere in India
The above 2 functions could be done through this website. All you have to do is to register (Small Form), upload photos, share with friends or send prints in India.
About:
Picsquare is headquartered in Bangalore. Manish Agrawal & Kartik Jain Co-founded this venture way back in 2005.
Money Funda:
The major source of revenue for Picsquare is:
Members order for photo prints
Personalized Merchandise items like mug, greeting cards etc.
Website Usability:
Picsquare was awarded as "Best Designed Website in online photo prints category" by PC World India in May 2008. This is why I had to take a closer look at its usability.
Home Page:
The most important factor for home page is "Introduction". A clear introduction is right now missing on the home page of Picsquare.com. The introduction lets your audience know what your website all about is. This also creates an identity for the remainder of the website. Once I looked the page closely I was able to figure out but not before spending half a minute.
Then I tried to see the homepage size (kb) and the results were not very positive. In total it was 286kb which is not good as the website is targeted towards Indians who don't have very high speed Internet connections. The website uses very heavy css files (17kb), Lot of images (64kb) and tons of JavaScript includes(171kb).
Other then home page the website looks fairly good. "How It Works" page is done very neatly and really gives an idea "How Picsquare Works". Forms on the website are also properly done.
Website: Picsquare
Note: I am working on a common usability meter. Would update all the posts with it once complete.