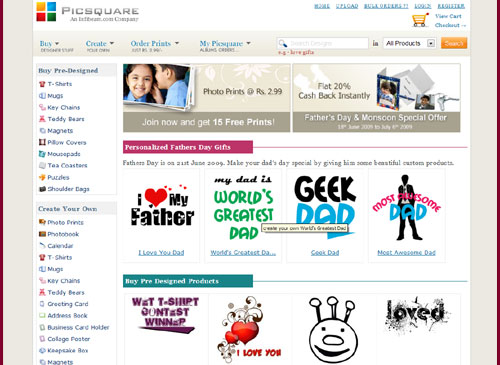 Picsquare.com (www.picsquare.com): It's a famous idiom "A Picture is worth a thousand words". They put big impression and help you to express your feelings clearly. Photographs play a very important role n our life and they are the perfect give for any occasion. People love to click, share and keep photographs as they preserve the moment. Y Picsqure.com provides you facility to print your favorite pictures at very low cost. You can select your pictures from flicker, Picasa and get them printed at never heard low rate. They also provide you the facility to upload your pictures and select them to be printed.
If you love to paint and design, the website is for you. You can design your t-shirts, mugs, key chains, pillow covers online and get them printed on your material. You can also gift your own designed items to your loved ones. If you are not interested in designing you can select from large number of predesigned items designed by top designers. You can select and send them to anywhere in India. Company charge little price for shipping but they guarantee to ship it within 3-4 working days
Picssquare.com is a place for greeting cards, address books, and collage posters. There are lots of special offers to avail and there is always discount on special occasions. The website provides free prints on signup and you can also earn reward points on using their services. These reward points can be used to take discount in future packages.
Design & Usability: I am not sure why lot of ecommerce websites looks somewhere inspired by amazon.com. The website is designed professionally. A tagline to summarize what actually the website does is missing from the top of the home page. However it is present in the bottom just above the footer. I think even well known companies follow this age old guideline. Navigation Areas are very clean and clickable. Meaningful use of Graphics, prominent search, easy login/register is some of the other prominent design features of the website.
How do they generate money? Picsquare sells digital photo prints, personalized photo gifts like Greeting Cards, key chains etc which could be sent as gifts to loved ones or to you.