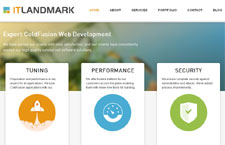 Although ITLandmark is not a new name, its website has been recently revamped to make it user-friendly and enabled with avant garde applications. We, at ITLandmark are pleased to announce the launch of ColdFusion website with an aim to make it a go-to place for the ColdFusion web services thereby helping our global audience as well.
The newly launched website is: itlandmark.com and the blog is: blog.itlandmark.com. This new design evinces the company's mission to focus on customers for offering them instant support.
Enhancements in the new website include:
Advanced Navigation – Lets the Users find more information on ColdFusion and any other web development services.
Clean User Interface – Lets the user to get in more depth as they easily navigate the information.
New Features – Contact form, detailed descriptions of services offered, portfolio, social networking page and blog mentioning ongoing events, press releases and more.
ITLandmark is an expertise in offering services including website designing, development, SEO, online database development, e-commerce solutions, payment gateways integration, control management system, plus more.
We have been very serious about our unique role in ColdFusion hosting and, we remain committed to offer the most competitive ColdFusion hosting services.
The capability of ColdFusion to deliver new web applications is constant regardless of the operating systems. The choice of Linux or Windows comes into play when it is outside of ColdFusion only.
ColdFusion migration and upgrade services are very much required when your website is developed on ColdFusion. We help you upgrading your website with the latest running version.
The latest revisions of ColdFusion web services include improve in the platform speed, reworking on inefficient coding and patching security holes if any. This systemized improvement in the updated versions allows the consumers to adore the stable web application at various access points.
This improvement in the performance allows the customers to enjoy your website when using the ColdFusion applications. Time to time upgrading is very important. Any delay in the upgrading can give competitors a change and also the hackers a chance to hack.
Customers interested in knowing more about ITLandmark.com and our range of ColdFusion services can visit our website and blog as well mentioned above.
Check this website and the blog periodically for news about upgrades, special promotions or latest apps you have been looking to develop your website in any required platform.