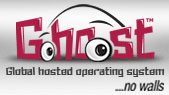 g.ho.st: is a blessing for people who work in many computers due to work nature or whatsoever. It serves as a web based virtual computer. You can store all your files in the virtual computer and can access it from any part of the world only by web browser.
After an initial free sign-up, we are transferred to an entirely different virtual world which includes a desktop, file storage and applications. It does not require any installation (which most of the applications demand), anti-virus or even backup and thus it's hassle free. Website also have WAP version, which means you can access your virtual computer from your mobile too.
The key features are surely to make the user go dumb-struck. The first feature that is sure to disarm anybody is the storage capacity. There is a whopping 15GB disk space and it keeps growing by 5 GB every time a friend is invited to join the site. Next important feature is what basically everybody would expect. Yes, a personalised mail services with yourGhostID @G.ho.st email through which you can manage your mails and contacts. The office suits allows to do all basic office works like reading, writing and editing of documents, spreadsheets etc. Allowing sharing and publishing files directly adds a feather to the cap. Also it allows organising the web stuff like files, photos, etc. It contains a web browser within it which makes the site a complete computer.
Thus in short this website serves as a personal lap-top or even more than that which will be available anytime and anywhere and it will create a bang by making usage of supplementary data storage devices secondary.
Website: g.ho.st
Comptetion: eyeOS, Desktoptwo, Goowy, YouOS, Cloudo
Company: Jerusalem Based
Founder: Zvi Schreiber(2006)
Funding: $3M (Benchmark Capital)