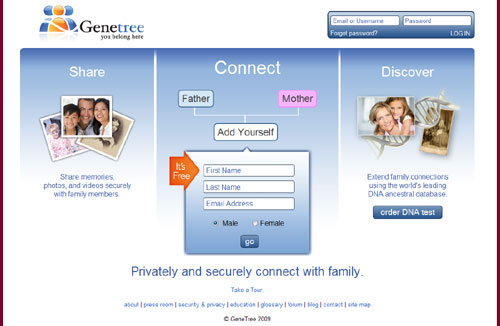 GeneTree (www.genetree.com) – The society is divided in to families. Family contains a group of people which are related to each other by blood. This system is working since the time of human's existence on this planet. Earlier people lives in joint families but as they time passes people never prefer to live in nuclear families. With this everyone has lost many brothers and sisters from ancestors and you cannot even identify them. If you are looking to make a family or trying to find out your brothers or sister from your ancestors GeneTree.com is for you.
The website offers you DNA testing which helps finding links from your ancestors. The uses the latest technology and offers DNA vigator tool. DNA technique searches common mitochondria, as they are passed by mother to the son and find out the relation between two. The test is different for male and female. This DNA vigator tool searches thousands of mitochondria and helps you to find common connection. The website offers you different DNA tests for males and females. This way you can find maternal as well as paternal relatives.
Apart from DNA test GeneTree.com also offers you a platform to get connected wit your loved ones. You can share your photographs, videos and memories secretly with your family and this service is absolutely free of cost. You can also link with your family and create a family tree. You might have heard of many social networking websites but this websites searches your family members and joins you with your family.
Usability and Design: The homepage of genetree is catchy with just what is required. It clearly shows the three services this website provides namely:
Share photos, videos with family members.
Connect with family members
Order DNA Test and acess to DNA ancestral database.
Navigation is easy and the website is professionally designed with very usable post login features.
Use of DNA test and access to DNA ancestral database did not match so nicely to family tree community. I am not sure how many people would be using this feature on the website. GeneTree has a database of about nearly 100,000+ samples in its DNA ancestral database.