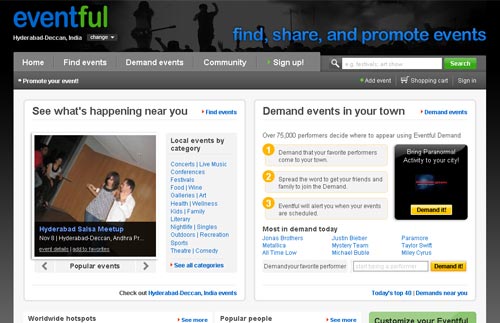 After a hectic working week, people plan to party on weekends. If you like to party and searching for some events in your area then this website is for you. Eventful.com contains list of events occurring in the area near you. All you need is to enter your city name in search box and you will get the list of events going to occur in your area. The website is not limited to USA. It contain event list of all the major countries including India. Eventful.com is all about events and you can find all the events regarding sports, business, comedy, music, politics and science.
It seems like website designer has done lot of home work and understand the importance of social bookmarking. The website allows you to share your favorite events with your friends at facebook. You can also add your own organized event in the list and send invitation to your friends. Website also allows fans to reach up to their favorite performers and can demand events. This help stars to plan their next performance.
The website is not only limited to finding and advertising events but also help you in booking a ticket for the event. The website redirects you towards ticketmaster.com from where you can find and buy tickets for your events. Eventful like its name make sure that you do not miss and event and keep you updated with email alerts. Speak up your mind as eventful provide you the facility to join communities and groups of your favorite stars and share your thoughts.
Website: www.eventful.com
Founder & Board Chairman: Brian Dear
Fundings:
Draper Fisher Jurvetson, Omidyar Network – $2.1M
Bay Partners, Draper Fisher Jurvetson, Omidyar Network – $7.5M
Telefonica, Draper Fisher Jurvetson, Bay Partners – $10M