A recent post in the Wall Street Journal stated that individual brainstorming fetched far better results when compared to group brainstorming. The post also reveals that creativity is at it's maximum when people are allowed to brainstorm alone rather than in group meetings where managers provide feedbacks.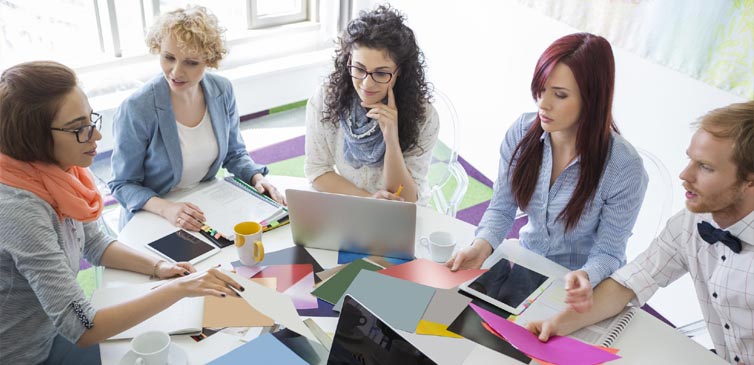 Keeping the above argument in mind, let us see if group brainstorming works.
Individual vs Group Brainstorming
In actuality, people who work in creative companies switch between working in individual modes and group modes so fast that a newcomer might not even notice the switch over.
The brainstorming sessions at many creative companies are so rigorous that the creative output at such sessions is sometimes immaterial.The post states that, though group brainstorming works, creative output in individual assessment is much more when compared to group work where many a times employees can get stifled.
But, it does not mean that group sessions have to be completely banished and people be allowed to nurture ideas in solitary.
Running Effective Group Brainstorming Sessions
Group brainstorming definitely works. But, according to Sigmund Freud, group brainstorming sessions can either bring out the best or the worst out of a person. So, it is important to keep in mind to run effective sessions that produce results.
Brain storming sessions should combine and extend rather than the only harvest on ideas. It is important to share knowledge during such sessions rather than try to impart it. Corporate sessions which believe in the latter are a mere waste of time.
Group brainstorming sessions are to be both preceded and followed by individual brainstorming sessions. Allowing the participants to know the topic of the session before hand would prepare them for it, thus allowing a free flow of ideas.
Group sessions need to be competitive in the right sense. Sometimes group sessions might create hesitation in people when it comes to putting forth their ideas. Motivating the participants with the right kind of competition might help bring their ideas out.
Group sessions should not just address the discussion of ideas. Such sessions are a great opportunity to know the whole team properly and a chance to clear any doubts about your work.
Both group brainstorming and individual brainstorming work. Individual brainstorming extends creativity in a better way for a few while effective group brainstorming sessions are helpful for a few.
Tips to Creative Brainstorming
Most brainstorming sessions often do not produce the desired results and quite often does not serve the purpose too well. A brainstorming session should just not focus on harvesting new ideas. It should also look to extending on ideas for which a creative input and productive output is necessary. Following certain tips to creative brainstorming can produce the desired results out of a session.
Tips to Creative Brainstorming:
Follow a tactical procedure as described:
Prepare slides of the session object and also mention the desired output. See that everyone gets to notice it on the screen.
Mix the participants and the contributors and if necessary make smaller groups.
Fix a timeline within which the task needs to be accomplished.
Ask the teams to pen down their ideas and collect all the team ideas at the end of the session.
Choose the best idea after careful evaluation and discussion.
Plan for the next steps.
Creativity and Productivity
Creativity and productivity always go hand in hand. It is important to understand the necessity of creative brainstorming sessions and minimize formal brainstorming which is only a mere waste of time.
Brainstorming sessions are meant to bring out even the most improbable and the most unconventional ideas from every nook and corner of the company. Even the most introverted employees sometimes put forth their thoughts in such creative environments.
A creative brainstorming session should always encourage the flow of ideas.
It is important that all the participants of the session are well aware, prepared and briefed about the session objective even before the session begins.
The core objective of a brainstorming session is to build a productive idea out of the many creative ideas that are discussed.
The above tips to creative brainstorming are essential and need to be followed by all the employees and corporates. Proper creative planning is important for the driving an innovative result.
Top Group Brainstorming Tools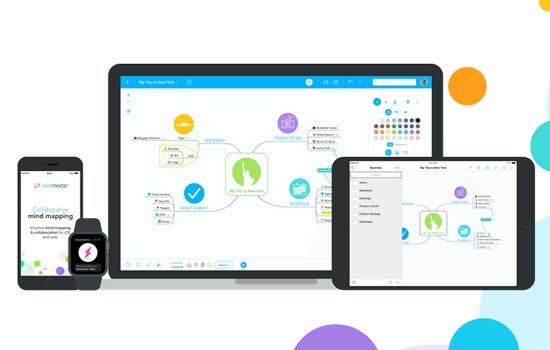 There are 4 available plans for this tool. The basic plan comes free of cost but has limited features. Only 3 mind maps could be created with a basic plan. The other plans include personal, pro and business.
The mind map editor could be used from the web browser. The software is stored in the cloud and no downloads are required to use it. One could use it from Mac, mobile devices or Windows PC.
Price: Cost for the personal plan is $5.99, Pro is $9.99 and business costs $14.99. All three prices are valid only when minimum purchase for 6 months are made.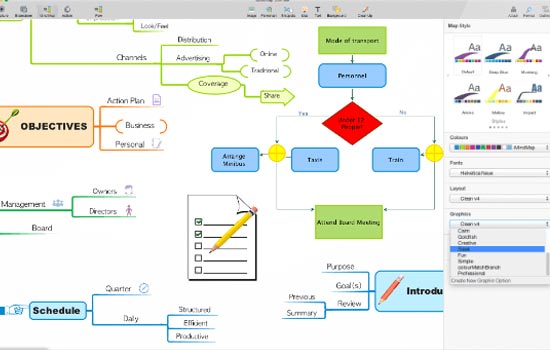 iMindMap is a very versatile tool where one could accomplish a lot of tasks with ease. Though a bit costly, the tools help in developing the ideas from concept phase to actual reality. The time map view helps in transforming ideas to actionable tasks. The project could be synced with Droptask or Microsoft projects.
Price: There are 3 editions of the software which for both Windows and Mac. Home & Student costs $100, Ultimate edition is priced at $235 and Ultimate Plus+ stands at $310.