To err is human but to arrr is a pirate! You may not have any sailing experience but you can still find treasure chests full of gold, diamonds, and pearls. Enter the world of pirates with the newest augmented reality mobile game – Captain Blimey!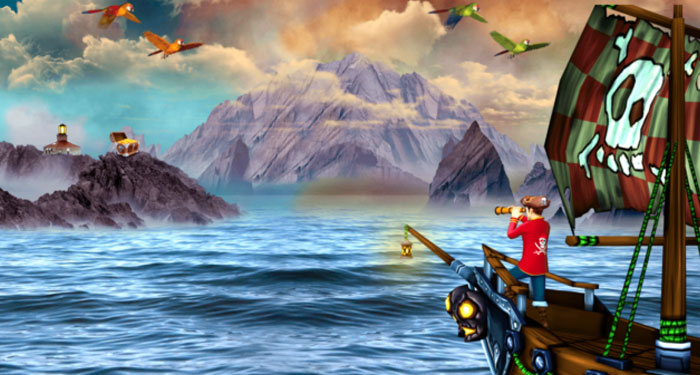 It engages you in the quintessential pirate quest of finding treasure chests to win big money in the real world. It is a location-based game and you have to actually walk to access and claim treasure chests. A chest appears on your map whenever you're within range of the nearest one. Be quick though because there are other people out there waiting to chance upon the right chests and be rewarded with real money. Open the game and you find yourself in the avatar of Captain Blimey on a map of your own environment. You have to walk and move forward physically and your phone's GPS will help control the avatar to move and play the game. Now you are free to roam your surroundings, find the nearest treasures and plunder the booty.
How to Play the Game?
If you think it's too much effort to walk substantially and make actual progress in the game, do not worry. You do have some tools called "trinkets" to help you and make it easier to retrieve the valuable chests. Don't forget to collect as many "gold coins" as you can which you can use to buy all the trinkets you need. There is a total of five trinkets. Activate the "dual doubloon" to double the coins that you collect in the next thirty minutes of playing. Use the "crystal ball" to see how valuable the nearest ten chests are. If you see a valuable chest on your map but it's not in your range, use the "magical lock" to lock the chest for 30 minutes. It will be safe and sound from other pirates until you can come in close range to claim it. The "green parrot" retrieves a chest for you so you can save your energy. The "golden parrot" on the other hand can only be used on "uber hunts".
Uber Hunts – Teleport and Play
The uber hunt is where Captain Blimey becomes remarkably interesting. In this phase, you're playing on a global scene. First, you unlock clues with gold coins or diamonds from your previous quests. Now you have to solve the clue and guess the location of the uber chest. If you're successful, you can teleport yourself to that location and try your luck to retrieve the treasure. If you happen to be within a hundred meters of the coveted uber chest, you can send out your golden parrot. If he returns with the chest, you win the treasure hunt and you go home with cash prizes in the real world.
Of course, everybody loves pirates and pirate games but Captain Blimey takes that to another level. Your obsession with pirates finally pays off as you get a shot at $15,000 worth of moolah. If you're already pumped about the game, your expedition for all the treasure chests in your neighborhood and your city is only a download away. Download Captain Blimey on the App Store or Play Store.
Events & Treasure Hunts: From Saturday, 22 July, 2017, world-wide treasure hunt is going to start with a total cash prizes worth $10,000.
Downlaod the game at IOS & Android Store.