It is becoming clear with the latest "State of the Mobile Web" report from Opera.com that web on mobile or PC is all same. People are accessing web from their mobile in the same way as they browse web from their PC. Trends from the report of last 5 months show that web usage is converging. People are using same websites regardless of the device.
Iphone, PDAs, Blackberrys and high end mobile phones are coming closer to PCs due to which the limitations on mobile web access are coming down. Day is not far when emails will take on SMS. Let us have a look at top 10 websites in India since last 5 months.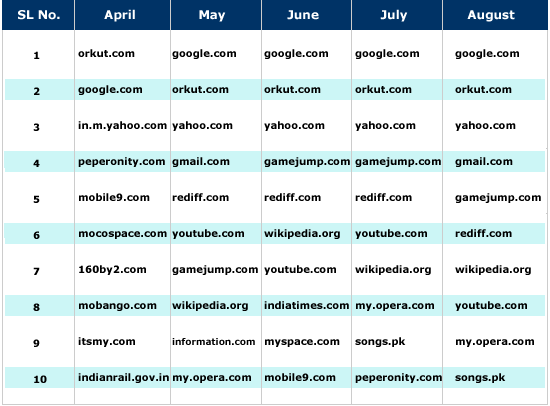 Let us have a look at the shifts :
Top 10 websites in India (April): orkut.com, google.com, in.m.yahoo.com, peperonity.com, gallery.mobile9.com, mocospace.com, 160by2.com, mobango.com, itsmy.com, indianrail.gov.in
May: 8 websites lost their place from top 10 list except Google and Orkut. The websites which gained entry in the top 10 list are all mainstream websites famous with PC users.
June: 3 websites lost their place in the top 10 list. Websites which gained entry are indiatimes.com, myspace.com, mobile9.com. Websites which lost their ranking are information.com, my.opera.com and gmail.com.
July: Top 7 rankings remained same for the month of July. The last 3 rankings were replaced. my.opera.com is back on the list followed by songs.pk and peperonity.com. 3 websites which lost their place are indiatimes.com, myspace.com, mobile9.com.
August: Top 10 list showed little change with gmail.com back in the list. New entry pushed no. 10 peperonity.com out.
In August out of top 10 websites for mobile web, 4 is owned by Google.
Now let us have a look at the top 10 websites according to Opera.com list for mobile and Alexa's list for PC's web.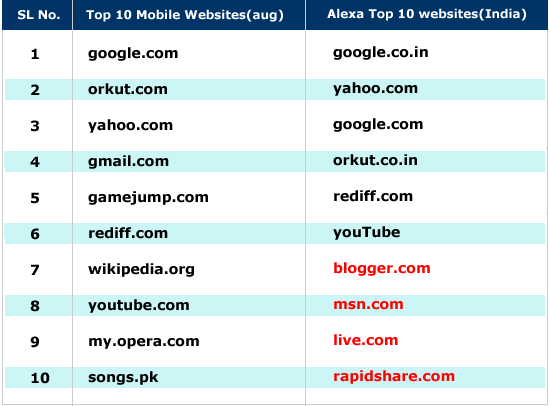 Top 6 websites in Alexa list is their in mobile web list too. That means, people are accessing same sites and services regardless of the device.
Storage capacity and processing power of mobile phones are increasing and the difference between Mobile and PC's web is decreasing. What do you feel will be future?